In addition to the Virtual Admissions Experience, there are
two ways you can learn more about CH-CH:

Book a Zoom Info Session with a member of our Admissions Team Now
In the Chapel Hill-Chauncy Hall Virtual Admissions Experience, you have the opportunity to learn about every aspect of school life at CH-CH from our students, parents, teachers, and administrators. Signing up gives you access to:
Over 7 hours of recorded content on topics including:
Academics: CH-CH's Approach
Virtual Campus Tour
Student Panel
Parent Panel
Skills and Academic Support Program
Visual and Performing Arts
College Counseling
Athletics: Let's Go Chargers!
Early access to upcoming live sessions where you can:
Watch our parents, students, teachers, and administrators discuss various topics in-depth
Take part by asking questions that are answered live
Live interaction with our Admissions team
Chat with our Admissions team live
Sign up for a Zoom info session to continue the learning

CH-CH is a day and boarding school located in Waltham, MA, offering grades 8-12/PG. Here are some fast facts to get up to speed. You'll be going in-depth with these topics once you register for the Virtual Admissions Experience: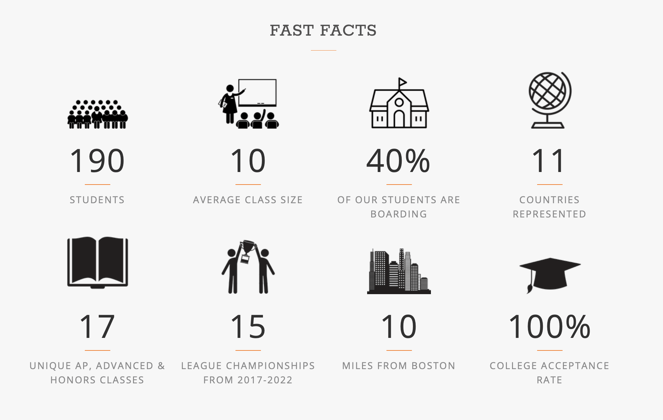 Distance Learning has been a challenge for students and parents everywhere. This is not something that any of us signed up for. Here at CH-CH, our community has worked hard to turn this time into an opportunity for growth through our hallmarks of curriculum, opportunity, relationships, and empathy (CORE).
I invite you to register for the Virtual Admissions Experience and for one of our upcoming live sessions where you will be able to join our students, parents teachers, and administrators as we discuss how CH-CH has maintained its CORE values in these times, and look ahead at what's to come.
We look forward to giving you an inside look at how our team is continuing to collaborate in learning, providing support, and building community with all of our students as we prepare them for college and beyond. It's a mission more important now than ever before.


Lance Conrad, Ed.D.
Head of School

Chapel Hill-Chauncy Hall Reviews:
"The backbone of CH-CH is the dedication of its faculty and staff. Teachers are exceptional and create a learning environment that promotes curiosity and active learning, all within a strong sense of community, inclusion and celebration of what makes each student unique." - Current Parent

"I have no doubt that my daughter has a bright college future. I owe this to Chapel Hill Chauncy Hall for their ability to know and understand my daughter and meet her needs, all while providing her with an excellent education." - Current Parent


"I am a current 9th grader at Chapel Hill Chauncy Hall, and my experience here has been one of a kind. My year here has been filled with experiences I will never forget, and I cannot wait until my sophomore year to gain more memories with the school!" - Current Student
CH-CH Virtual Admissions Experience Reviews:
"My daughter and I watched the session together. We both thought it was very informative. Her favorite part was listening to the kids. She said she could see herself being friends with all of them!" - Parent of Student Applying to CH-CH

"You have managed to let the regard and affection everyone has for each other shine through these one-hour sessions." - Parent of Student Applying to CH-CH
More of What You'll See Inside: